UFC 232: Britain's Nathaniel Wood to meet Tom Duquesnoy in Las Vegas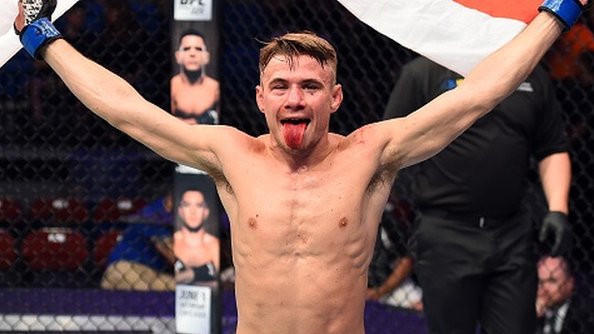 British bantamweight Nathaniel Wood will face France's Tom Duquesnoy at UFC 232 in Las Vegas on 29 December.
Wood, 25, impressed on his UFC debut in June when he beat Johnny Eduardo with a second-round submission in New York and was awarded Performance of the Night.
The Londoner, nicknamed 'the Prospect', says he wants to "put on a show" in Las Vegas at the T-Mobile Arena.
"Vegas is the capital of the fight game, so I am excited to showcase my skills out there," Wood told BBC Sport.
"Expect a fast-paced fight. I don't like to go to decisions, I like to get it finished and get those bonuses.
"I am predominantly a striker, but I can grapple if Tom wants to – I like to put on an exciting show for everyone."
Wood, who is mentored by UFC veteran Brad Pickett, hopes to climb into his division's top 10 fighters next year.
"The end goal is to become UFC champion, get that gold around my waist, and live a happy life," added Wood. "I am living the dream at the moment.
"I would like next year to hit the top 10, so the top 10 guys in bantamweight best believe I am coming to take those spots."
Best bantamweight in Europe?
The former Cage Warriors champion also has eyes on competing in front of his home fans in the English capital.
"For me, the dream place to fight is London," said Wood. "I want to fight in my home town.
"I would have thought UFC will be around London next year, so I'll fight Tom Duquesnoy in Vegas, beat him up, and then 100% I would like to get on that London card."
Pickett says a fight between Wood and Duquesnoy may have happened earlier, before 'Fire Kid' was signed to UFC – the Frenchman has won two of his three bouts since.
"I really like the style match-up," said Pickett. "It's a great fight, a fight that could have happened a few years ago on the local scene, but now they are fighting each other on the big stage."
Wood added: "He got signed and I was left to continue my journey outside of UFC. Now I can finally see who the best guy in Europe is at bantamweight."
'I've never had that much money in my life'
Wood's performance on his UFC debut in June earned him an extra $50,000 (£38,100) for winning the Performance of the Night prize.
"I was laying in bed, I was with my dad and had a bit of concussion, I was being sick and was in a real bad way after the fight," he said.
"I fell asleep, woke back up about two in the morning and we were just looking back on the fight when the bonus came up – it had 50Gs next to my name, I've never had that much money in my life.
"So to see that, I was half dying with a real bad headache, but I couldn't help but jump up and that was definitely a real good feeling."
And Wood, whose professional record stands at 14 wins and three losses, says he feels at home at mixed martial arts' top table.
"I have been visualising it and training for it for the last 10 years of my life," he added.
"When I was walking into the cage it felt normal, it wasn't until after the fight when I looked backed on the TV that it felt weird, but it felt good.
"This is where I am supposed to be and I am finally getting to showcase my skills."
source BBC Sports